So, I've finished my first digital layout…Now what?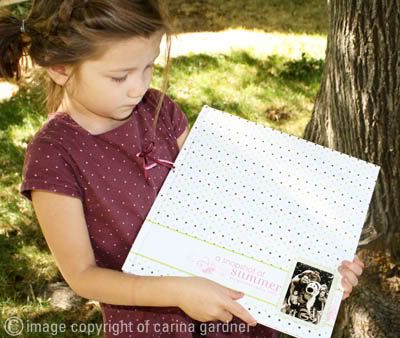 So, I've finished my first digital layout…Now what?
I know that's what you're thinking, don't even deny it.
Just like with digital scrapbooking, the possibilities are many, so we'll touch on a few.
1) Print it yourself. This one is pretty obvious, I know, but there are many benefits to printing at home. Instant gratification, anyone?
2) Have it printed, by page. Obviously, a nice feature of our digital age. You can upload, have it printed, and shipped right to your door. Perfect for those hectic times when we get a bit behind. Or those lazy times, when you're vegging in your pajamas all day.
3) Have it printed, by the book. That's right. You can upload all of your pages and have them printed in a single, bound book. How cool is that? Again, delivery to home is a nice benefit.
4) Don't print it. No one says you HAVE to print your layouts. (I have a friend who has never printed a single one, because she likes the way they look in her monitor!) Display them in a digital frame, post them to your blog, or carry them around on your iPod or cell phone. And don't forget to share them in our Gallery at Design House Digital!
Of course, this can still raise a lot of questions. Can I really print it at home? Do I need a special (super expensive) printer? What company is the best? What if I drop my iPod in a puddle?
Don't worry, we'll address all of these (in more detail) in upcoming posts. For now, just realize that one of the coolest things about digital is that you're not locked into ANYTHING. You can print twenty of the same layout, without having to buy twenty packs of embellishments. You can print it now, and have it printed into a book later. And then blog it.
Ain't digital grand?